Gary Barlow, what a guy, man. You won't see me picking up his album any time soon, but I've got massive respect for him, even more so after this. Gary invited a young lad, Zachary to his gig in Cornwall on Wednesday after hearing that Zachary had been left disappointed after missing out on tickets when they originally went on sale in November.
Zachary wrote a letter to Barlow, sharing his frustration and anger at the fact that tickets were snapped up in minutes, only to be put on resale websites for over three times the original price.
In his letter, Zachary states,
When my mum told me that she couldn't get the tickets I started to cry and get upset because I really wanted to see you live and sing along to your songs. Mum was explaining to me why we couldn't get tickets and one of the reasons was that people buy the tickets to sell on and make money on them. This made me very angry and upset because as a fan I'd really love to see you.
I think this is very unfair as the price goes so high we can't buy them. This has to stop! I hope you get to see this letter and see how frustrating this is for genuine fans!
All my love from Zachary Simmons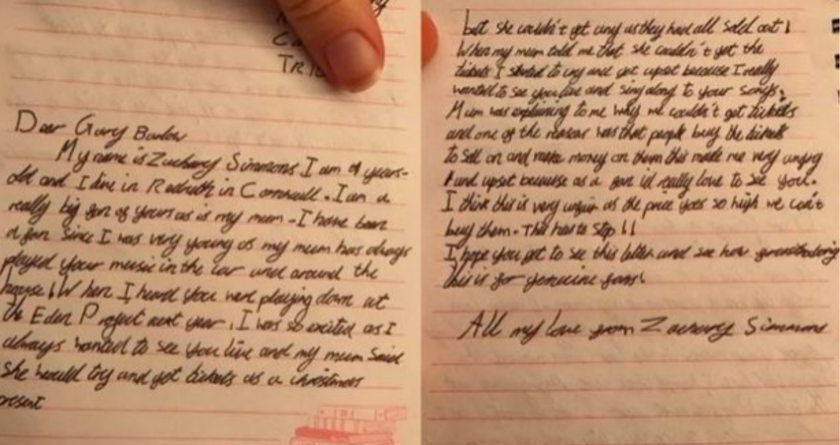 I share your pain Zachary, this has to stop, another fan that could have potentially missed out on a great night. Huge love to Gary Barlow for picking up the mess that the current ticketing system presents. Gary just rode on in there like a true hero, invited Zachary and his Mum to the gig as his personal guests and turned a sad story into a very happy one! Yesssssss Barlow!
After hearing of Zachary's plight, Barlow responded on social media, inviting Zachary Simmonds and Mum, Samantha, to the Cornwall show at The Eden Project. Gary met up with Zachary before the show and thanked him for his letter, telling Zachary he is a star and that he wrote what was on everybody's mind... Amazing!
As much as this is a good news story, this is also another reminder that the ticketing problem isn't going to go away. The current system means that fans are going to continue to miss out, and changes have to be made. How are these tickets getting onto resales websites? Gary Barlow saw Zachary's letter and took action, how many Zachary's are there, how many stories that go unheard?
Most recently I heard how Ed Sheeran fans and BTS fans have fallen victim to the system, the list of fans affected by the current ticketing processes continue to grow, it's great to finally hear some good news!
Good work, Barlow!