So our hopes have faded for another year, we pleaded for it to be brought home, but to no avail. After nearly a month, a jovial 'it's coming home' song transformed into a firm belief, this young England team and their leader, Gareth Southgate had us daring to dream.
This was the World Cup semi-final, the furthest England had gone in a World Cup since 1990, and what better way to watch it than with 30,000 England fans in London's Hyde Park.
On Monday, British Summer Time festival announced that Hyde Park, that has played host to Eric Clapton, Roger Waters, and The Cure, already this summer, would be showing the England game and 30,000 FREE tickets would be made available to winners of a ballot. A few website hiccups and undoubted truck-loads of traffic led to a very stressful 24 hours.
I tried in vain to get tickets to Hyde Park, entered the ballot, watched on from the sidelines as people started to receive their congratulatory emails, made alternative plans (through gritted teeth) to watch it in the pub and started to accept defeat that I wouldn't be at Hyde Park to watch the game with 30,000 fans! I mean, The Florence in Herne Hill is a decent pub, but it's not Hyde Park and a live performance of The Lightning Seeds!
I made one last desperate attempt at salvaging a ticket on Tuesday evening...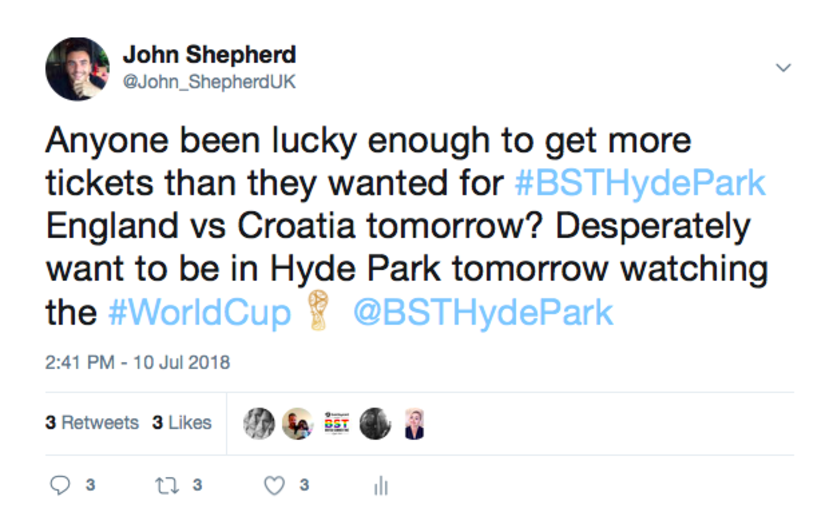 You know, play the game, hashtag #BSTHydePark tag @BSTHydePark see what happens. @BSTHydePark even liked the tweet, .... nope, nothing.
But then, only a few hours before those Hyde Park gates were due to open, like a swinging Kieran Trippier right boot, came the most perfect delivery.... @GabbyLouise you absolute hero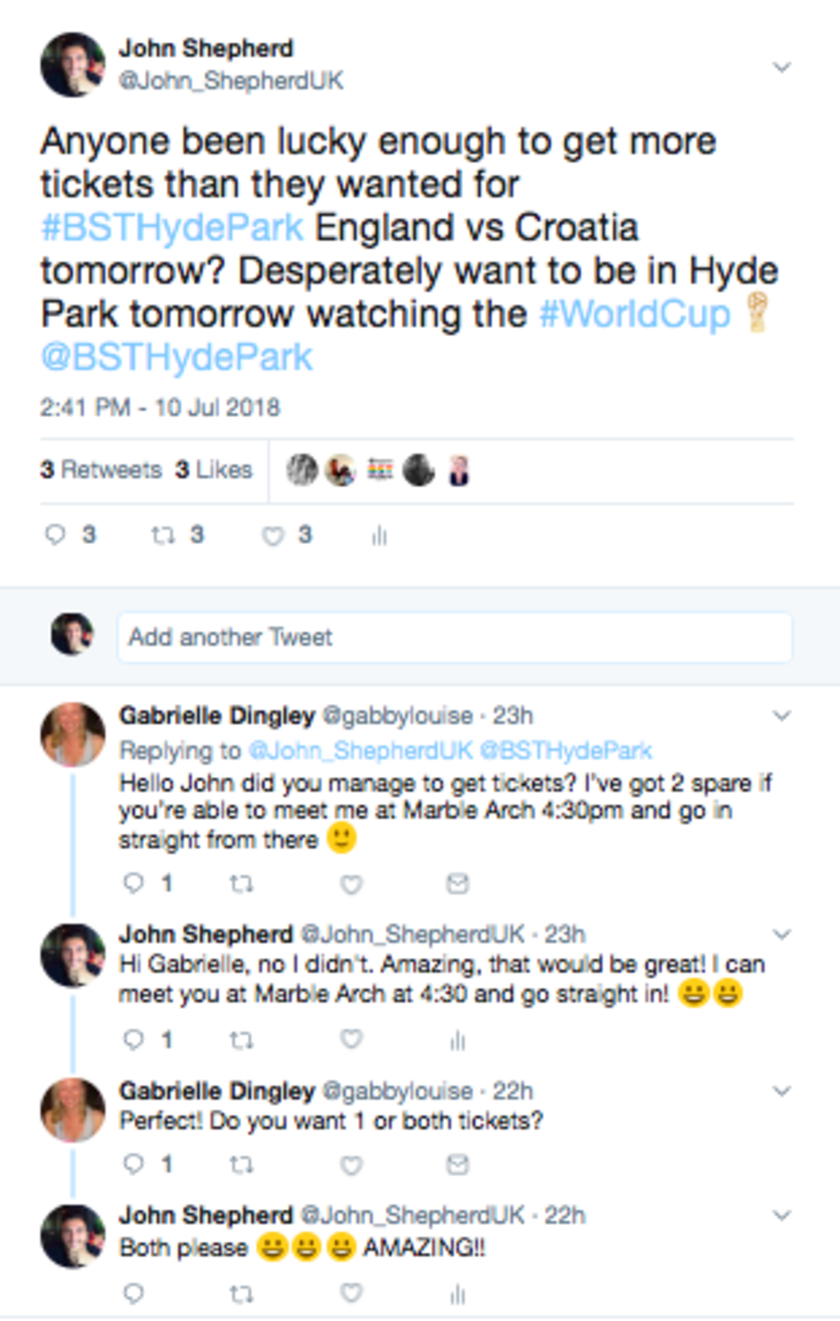 Gabby had 2 spare tickets to Hyde Park, she was going with her Dad to Hyde Park, originally her brother was supposed to go, but he opted to watch it in the pub instead (thanks Gabby's brother) she had 2 spares, and didn't want them to go to waste, Gabby had a look on Twitter, saw that I was desperate to go, so reached out to me! Now I don't even know Gabby and I wasn't too sure that kind people like Gabby even existed anymore but she's offered me 2 tickets TO HYDE PARK! How amazing is that?!
Gabby and I had a chat, I agreed to meet her at Marble Arch station at 4:30 and we'd go in together. So I messaged my friend, told her we had tickets and to get to Marble Arch to meet our superstar Gabby. As I'm stood outside of Marble Arch waiting for Gabby, (I'm 20 minutes early and obviously keen) I'm witnessing touts outside the station, people are SELLING £100 for free tickets, people are BUYING free tickets for £100!! This is a madness, and makes me even more grateful to Gabby for gifting me a ticket.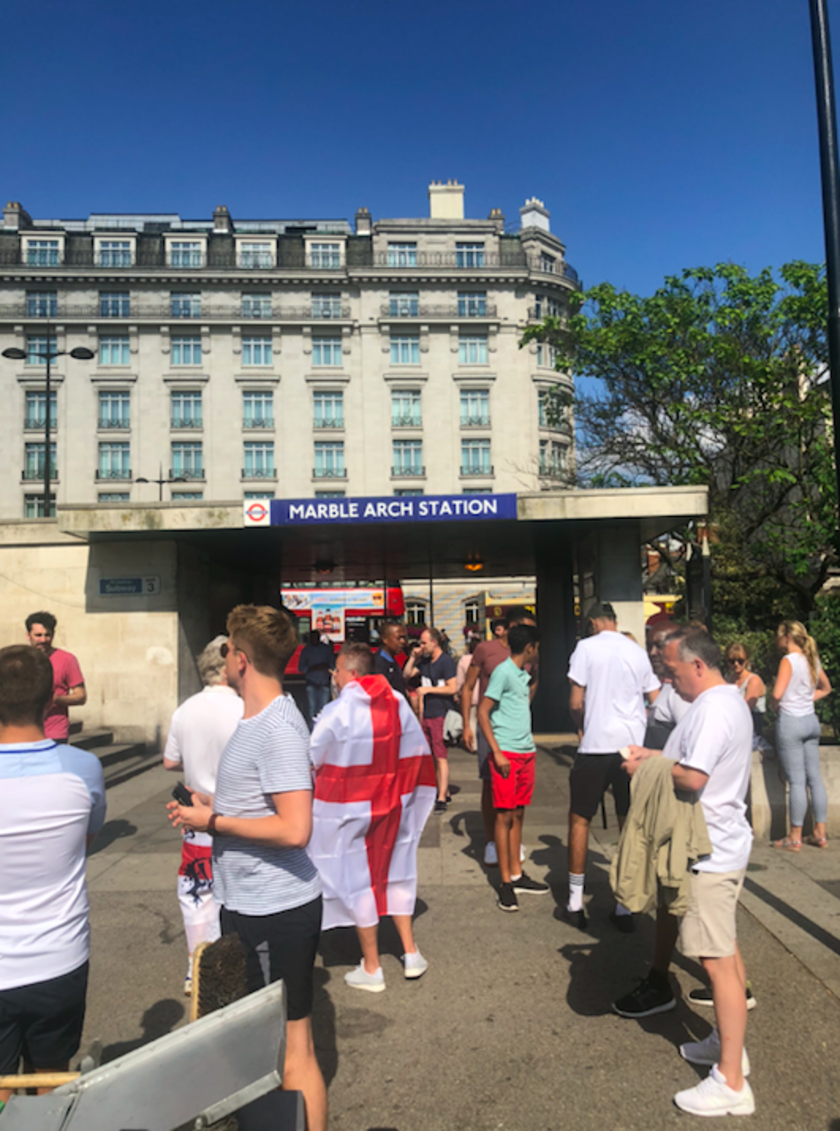 So I meet Gabby and her Dad at the station, Gabby is indeed in her England shirt and greets me with a hug and a friendly smile, this is actually happening, I'm going to watch the biggest England game in my lifetime in Hyde Park because of Gabby! We share a conversation of how tickets are being SOLD at such extortionate prices, Gabby shares my disgust at how much these FREE tickets have been sold for. Gabby said she just didn't want her tickets to go to waste, amazing!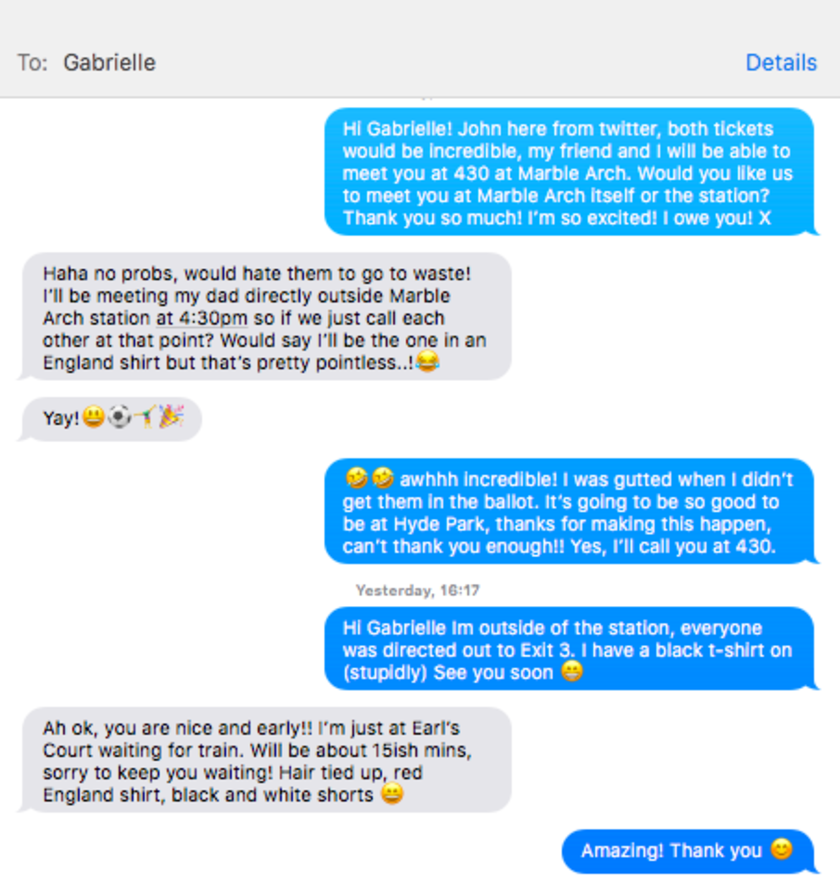 We walk through security, Gabby is the lead name, she shows her ID, we all go through bag check, we discuss our optimism for the evening ahead of us and I once again thank Gabby for her generosity. I offer to buy Gabby and her Dad a drink, it's the least I can do, Gabby has handed me a life moment here!
So we 'cheers' to a successful England match, I thank Gabby once again, and we go our separate ways to watch the match.
So last night was heartbreak, it wasn't the result we hoped for, but Gabby's generosity put a real smile on my face last night, it's good to know that acts of generosity like this still happen.
I told Gabby that I wanted to share her story with the Vibe Community because her kindness typifies everything that Vibe stands for, we often talk about fans not being able to go and see live events and how the system doesn't often work for fans, yesterday I was a fan that wasn't able to go to a live event until Gabby saved the day. So Gabby, you're a hero, thank you so much!