Pollstar released their 2018 mid-year touring data last week, a chart which looks at the numbers around an artist's tour, with one man that has, 'managed to beat all comers by a country mile' .... Ed Sheeran.
With staggering numbers posted, Ed Sheeran obliterates the likes of The Rolling Stones, Bruno Mars, Taylor Swift and U2, with his Wembley dates alone grossing an estimated $23.92 million.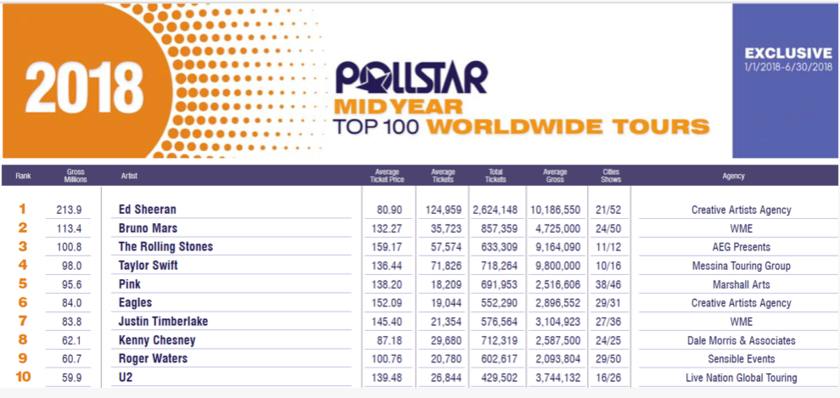 But whilst Sheeran continues to break records, there are still fans that have been left out of pocket. Ed took a really strong stance with the distribution of his tickets, declaring 'war on touts' which we hope were set up with the best intentions, but actually proved quite costly and very stressful.
We've followed Sheeran's tour closely, we're constantly tagged in stories as fans vent their frustration at the fiasco, whether that's in the direction of Viagogo, Sheeran and his management team or the people that have bought tickets without the intention of ever going to see Ed. So we've done a lot of research, spoken to a number of people, and thought we should share what we've found.
Tickets for Sheeran's tour went on sale on 8th July 2017. with a particular set of terms and conditions, Kilimanjaro Live, Ed's tour management company sent a letter out to remind people of those particular terms.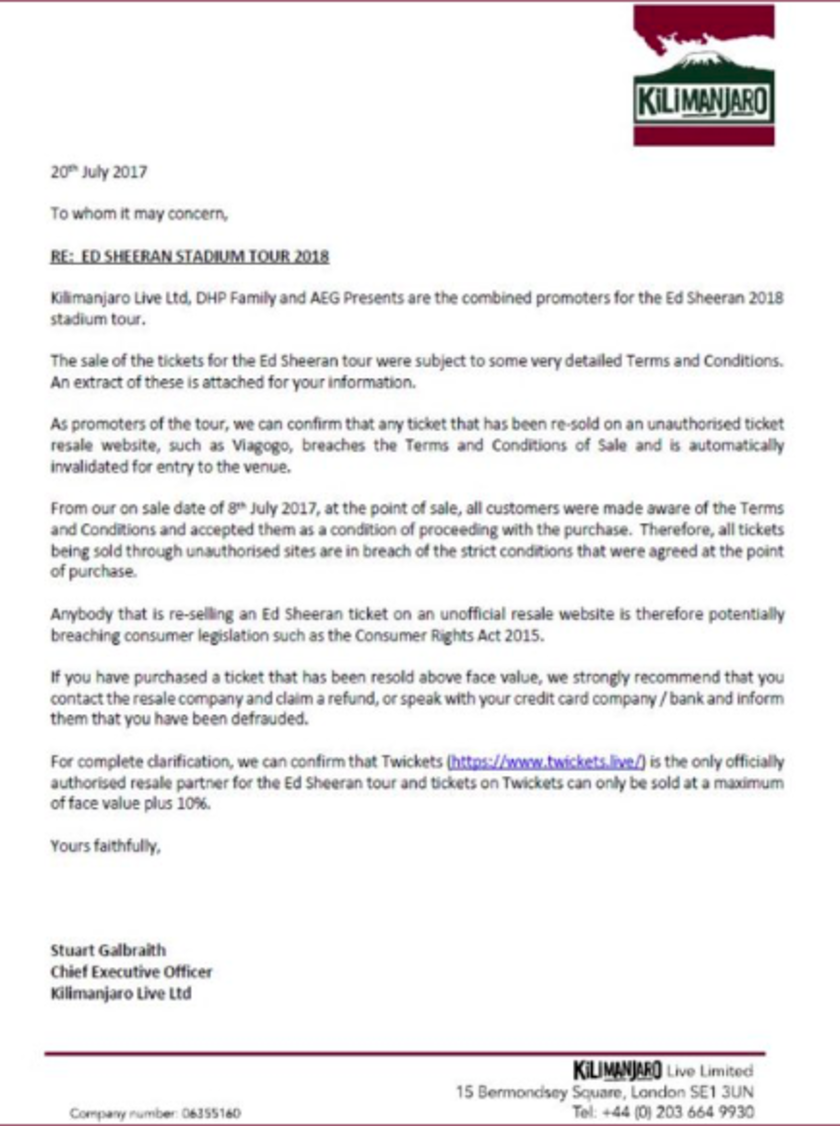 Any ticket that has been re-sold on an unauthorised ticket resale website such as Viagogo, breaches the Terms and Conditions of sale and is automatically invalidated for entry to the venue.
All tickets being sold through unauthorised sites are in breach of the strict conditions that were agreed at the point of purchase.
Twickets is the only official authorised resale partner for the Ed Sheeran tour and tickets on Twickets can only be sold at a maximum of face value +10%
If you have purchased a ticket that has been resold above face value, we strongly recommend that you contact the resale company and claim a refund.
Now, the last two points are slightly ambiguous in themselves, but let's see what the Competitions and Markets Authority say.
https://assets.publishing.service.gov.uk/media/5a1d2a3be5274a1fabe586ba/update-on-unfair-terms-work-secondary-ticketing-final.pdf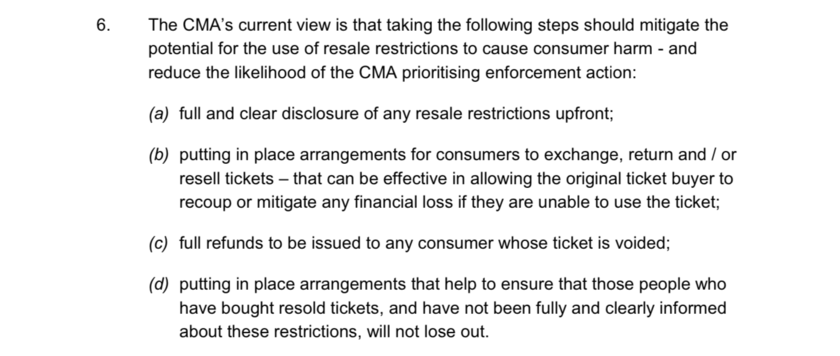 We even went down to Wembley ourselves to see what was going on....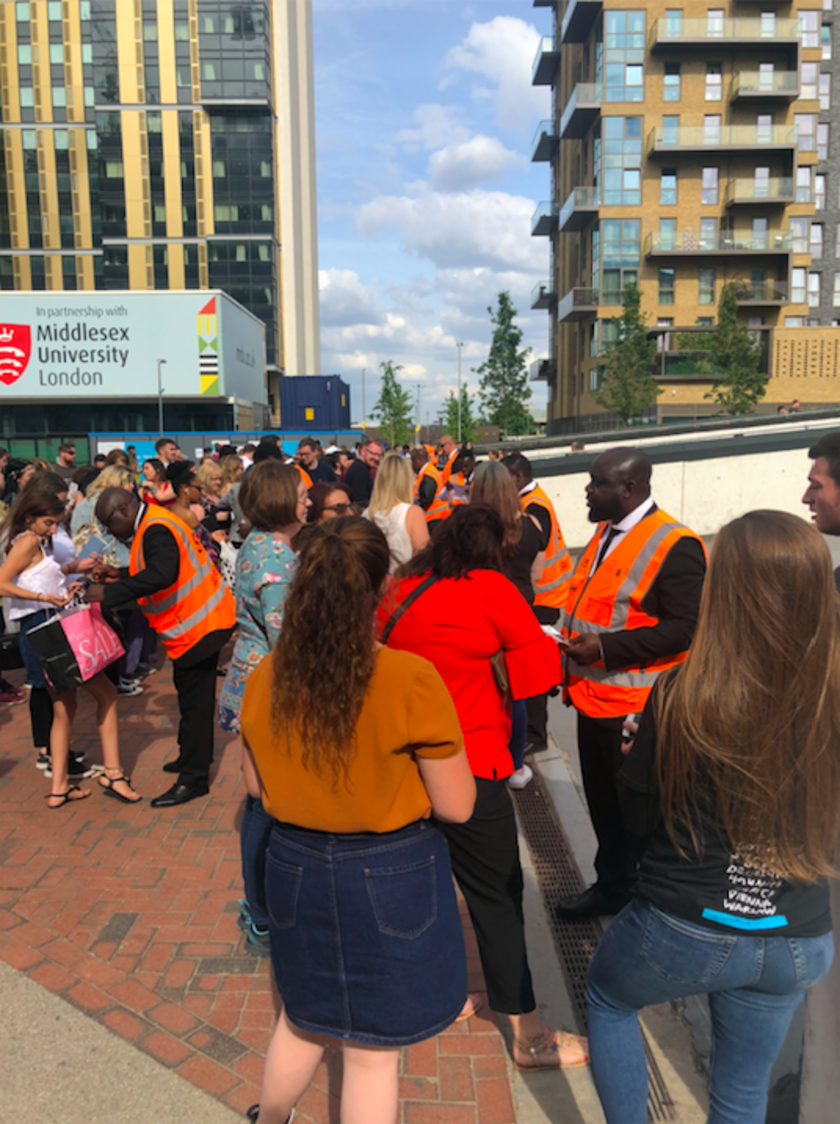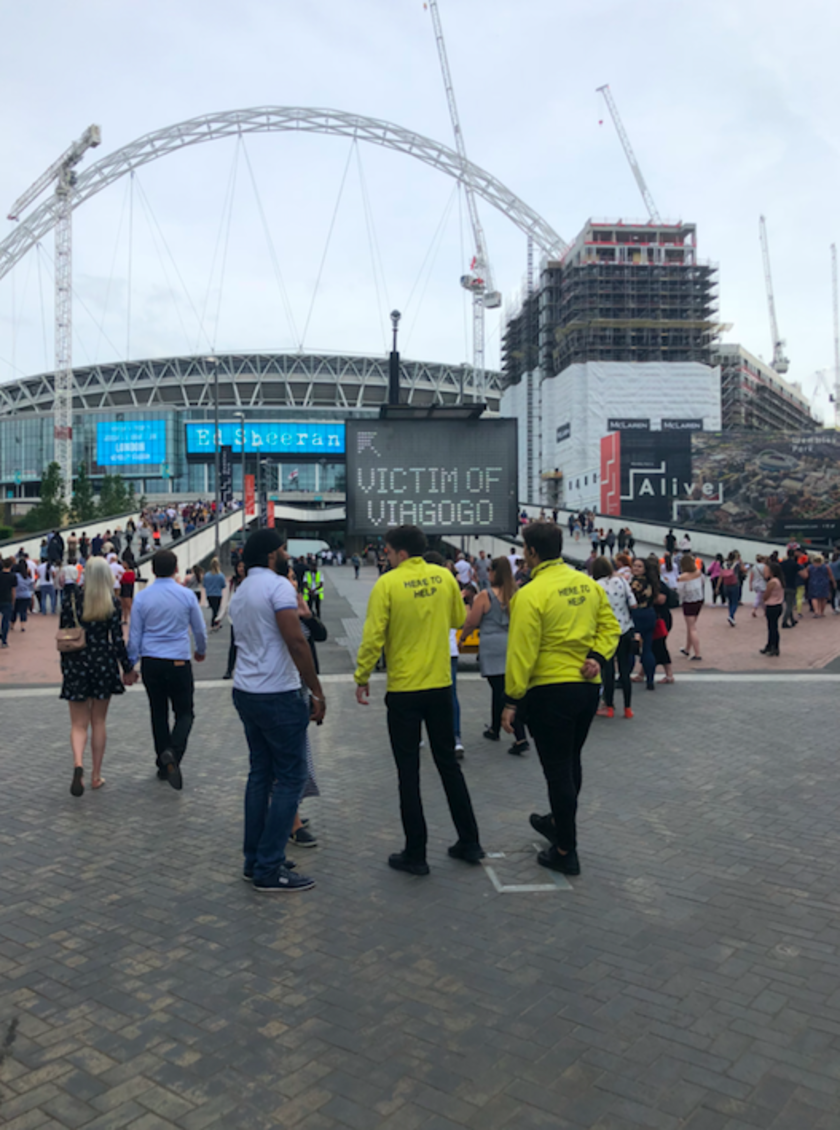 Ed had a team called 'Victims of Viagogo' set up outside his venues which invalidated people's tickets if they were bought through Viagogo.
How did they know if these tickets were bought through Viagogo?
They didn't. They asked you, and if you answered 'Viagogo' you were a 'victim of Viagogo' had your ticket stamped as invalid and were led to a box office to pay face value for your overpriced Viagogo ticket, and that's cool, IF you've got the money, IF you can also get the refund!
On the surface, great, I've been duped into paying £500 for my £90 Ed Sheeran ticket on Viagogo, I get my £500 ticket invalidated and refunded and I pay £90 face value for the ticket, I spend the night with Ed for a lot less than I had originally planned to pay, amazing!
But what if I didn't have the funds to pay for my £90 ticket before receiving a refund from Viagogo?
Then you couldn't go to the gig, you were left stranded outside.
Wait, they invalidated the ticket, shouldn't they provide me with a refund?!
No, they leave the refund to Viagogo of course, and if Viagogo don't play ball, you've paid twice for a ticket. Once when you bought it on Viagogo and once again for the ticket they invalidated at the Box Office.
But hasn't the ticket been paid for twice anyway?!
Yep, that particular ticket was bought once on Ticketmaster, then once at the Box Office..... so who is receiving the second payment?! Has this gone to compensate fans? Or is this the reason Ed's got a 'record-breaking' tour 2 sales, 1 ticket. Double-dipping? 🤔🤔🤔
So let's look at points C and D from the CMA.
Point C
Full refunds to be issued to any consumer whose ticket is voided.
So tickets were voided but they didn't make a full refund! They're leaving people to jump through hoops for Viagogo and deal with their own refunds, Viagogo have asked for people to provide evidence that the tickets were invalidated by providing a letter from the box office (or Victims of Viagogo) plus a photo of the new tickets they were forced to buy! More distress for fans! We're definitely not on board with Viagogo, you've seen our Twitter, we don't mind throwing the occasional shade their way 🙊🙊🙊 but where's the support network from the people that have invalidated the tickets?!!
On the other hand, despite invalidating 1000's of tickets, Victims of Viagogo, Box Office, Kilimanjaro Live didn't refund one ticket at source, meaning they got paid twice for the same ticket!
Madness!
Point D
Putting in place arrangements that help to ensure that those people who have bought resold tickets, and have not been fully or clearly informed about these restrictions will not lose out.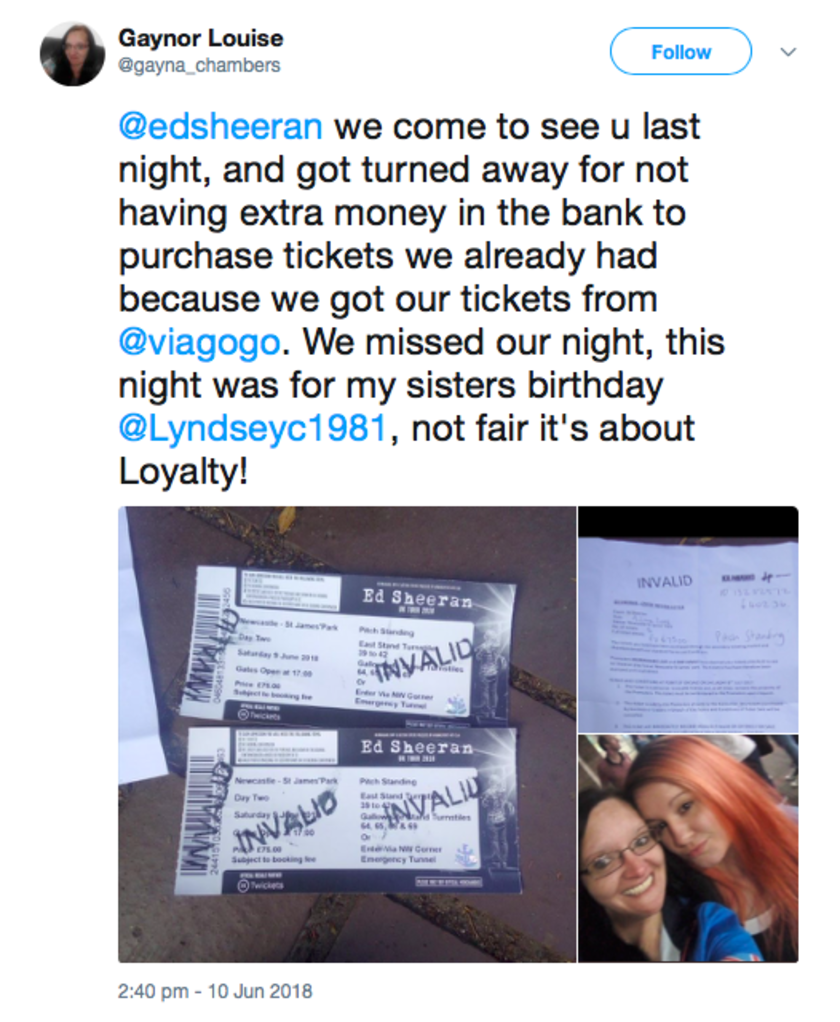 Not lose out?! Is there a bigger way of 'losing out' than turning up to see your idol perform and not being allowed into the concert?! Fans wait all year to see the biggest stars tour, imagine not being allowed in?! There's NO bigger way of losing out!!
And as the Ed Sheeran money-making machine continues to make its way through Europe and beyond, fans continue to miss out, this was Germany, only last weekend.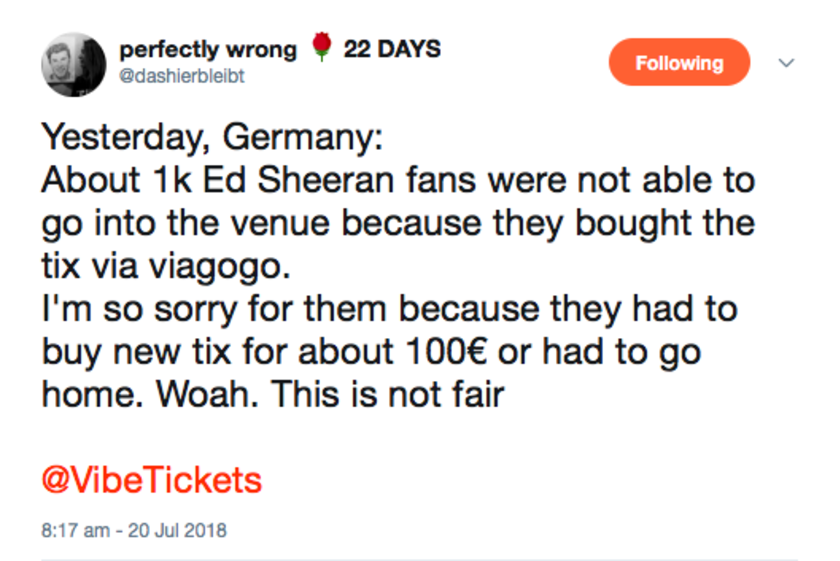 Fans out of pocket, fans not being allowed into the concert despite paying for a ticket, looking at Ed's 'chart-topping' 'record-breaking' tour and knowing that lots of fans have been left to fend for themselves leaves a sour taste in the mouth.
We know there are huge issues in the way tickets are distributed, problems in both primary and secondary markets and that's why we're trying to fix them, why we want to talk about them, converse with the decision makers and build a better industry for everyone. Surely there's a better way to 'clean-up' the industry, it's time fans weren't forgotten about!