It's been three months since Anthony Joshua took to the ring to defend his WBA and IBF Heavyweight titles against Carlos Takam. Now, almost a year after his explosive 10th round victory over Wladimir Klitschko, AJ is returning to the ring to challenge WBO heavyweight champion, Joseph Parker.
Having recorded victories in all of his previous 20 bouts, AJ is obviously renowned for his devastating knockout power, but most recently Joshua has also been creating a reputation for himself based on his musical taste. 
For his fight against Klitschko Joshua teamed up with Beats by Dre, and he's even dropped his 'Ringwalk Knockouts' playlist on Apple Music which features tracks such as Who Gon Stop Me from Kanye and Jay-Z's Watch The Throne, Giggs' Talkin the Hardest, and Stormzy's grime anthem, Shut Up.
"Joshua has also been creating a reputation for himself based on his musical taste."
Stormzy performed Shut Up during Joshua's ring walk against Dillian Whyte back in December 2015, a masterstroke that went some way to push Stormzy into the mainstream as legendary boxing announcer Michael Buffer introduced the Croydon MC to a packed-out O2 arena. 
However, this isn't the first time that Music and Boxing have come-together. From Mike Tyson and Tupac's friendship back in the 90's to Floyd Mayweather and 50 Cent's love/hate relationship, Boxing and Hip Hop often collide in spectacular fashion.  So without further ado, below are five of the greatest hip hop ring walks in boxing history.
Naseem Hamed vs. Vuyani Bungu (2011): Puff Daddy ft. Kelly Price - I'll do this for you
Prince Naz was renowned for his exuberant approach both inside an outside of the ring - I could fill a top 5 Ringwalk moments solely from the man himself - but this Naseem Hamed entrance is by far the most incredible. Naz enters the arena on a flying carpet, floats over the audience, lands the magic carpet next to Diddy, walks to the ring with Puff and does his trademark somersault over the ropes into the ring while Diddy's I'll do this for you, featuring Destiny's Child's Kelly Price sounds out over the London Olympia.
Adrian Broner vs. Antonio DeMarco (2012): Kendrick Lamar - Backseat Freestyle
In 2012 K Dot provided the soundtrack to Adrian Broner's WBC lightweight title win, performing Good Kid M.A.A.D City's Backseat Freestyle at the Boardwalk Hall in Atlantic City. After an initial microphone malfunction, Broner 'dougied' his way down to the ring alongside the self-proclaimed King of the West Coast and duly cruised to victory with an 8th round stoppage.
Shane Mosley vs. Manni Pacquiao (2011): LL Cool J - Mama Said Knock You Out
Although the track was released in 1990, it wasn't until 2011 that LL Cool J escorted his childhood friend Shane Mosley to the ring with Mama Said Knock You Out. This original hip-hop anthem is ready-made for the sport of Boxing, yet despite LL's best efforts, Mosley lost a unanimous decision to Pacman.
Anthony Joshua vs. Dillian Whyte (2015): Shut Up - Stormzy
Stormzy greeted AJ in the ring before his grudge match against Dillian Whyte at the O2 in 2015. The Grime MC changed the lyrics of his smash Shut Up to "man try say he's better than AJ…. tell my man shut up" which later angered fellow South-Londoner Dillian Whyte and led to beef between Whyte and Stormzy.
Floyd Mayweather vs Saul Alvarez (2013): Lil Wayne - A Milli
As Mayweather prepared himself to face what was billed as one of the toughest challenges of his career, he was ably assisted to the ring by rap royalty Lil Wayne and none other than Justin Bieber. On one side of Mayweather Lil Wayne bent over to release hellfire into the mic' as he rapped street anthem A Milli, while on the other side of Floyd Bieber nonchalantly sauntered down to ringside. Mayweather, Lil Wayne and Bieber. A peculiar triple-threat.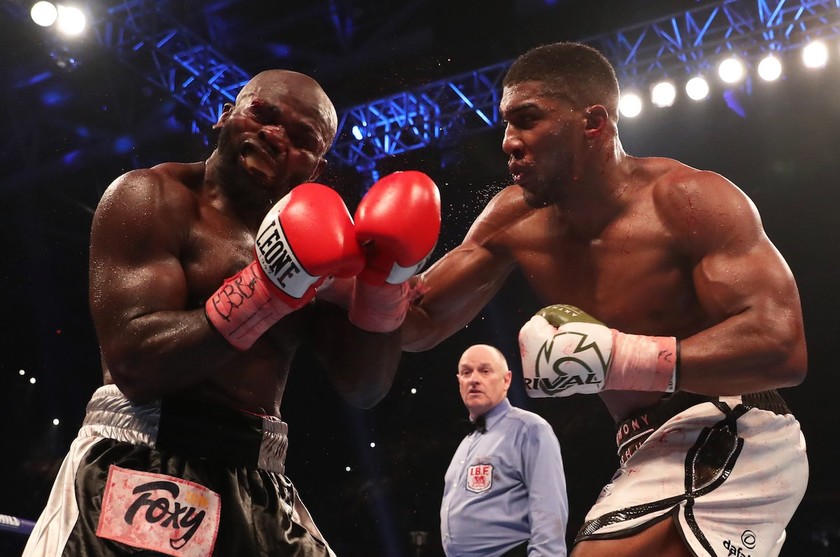 (Image via)
If you want to catch AJ's next ring walk live but missed out on tickets, take a look at this week's #FreeForFans giveaway. Yes, that's right, we're giving away a pair of tickets to Anthony Joshua vs. Joseph Parker.
All you need to do is find the listing on our app by hitting the button below and tag a mate you'd like to bring along with you in the comment section.
If you don't have the app installed you can download it via the App Store or Google Play. Good luck!