So yesterday we spoke about how you're being lied to, that the secondary ticket market is taking a huge amount of criticism from all angles, we exposed evidence of how Ed's tour management company, Kilimanjaro Live sold tickets directly into the secondary ticket market.
Many journalists refused to acknowledge the 'evidence' dismissed sources as illegitimate, claiming we've been hoodwinked and brainwashed, jumping to conclusions about what we saw. Were we really jumping on the bandwagon? Misunderstanding Ed's stance and the actions of his tour company? Answer: No, no we definitely were not!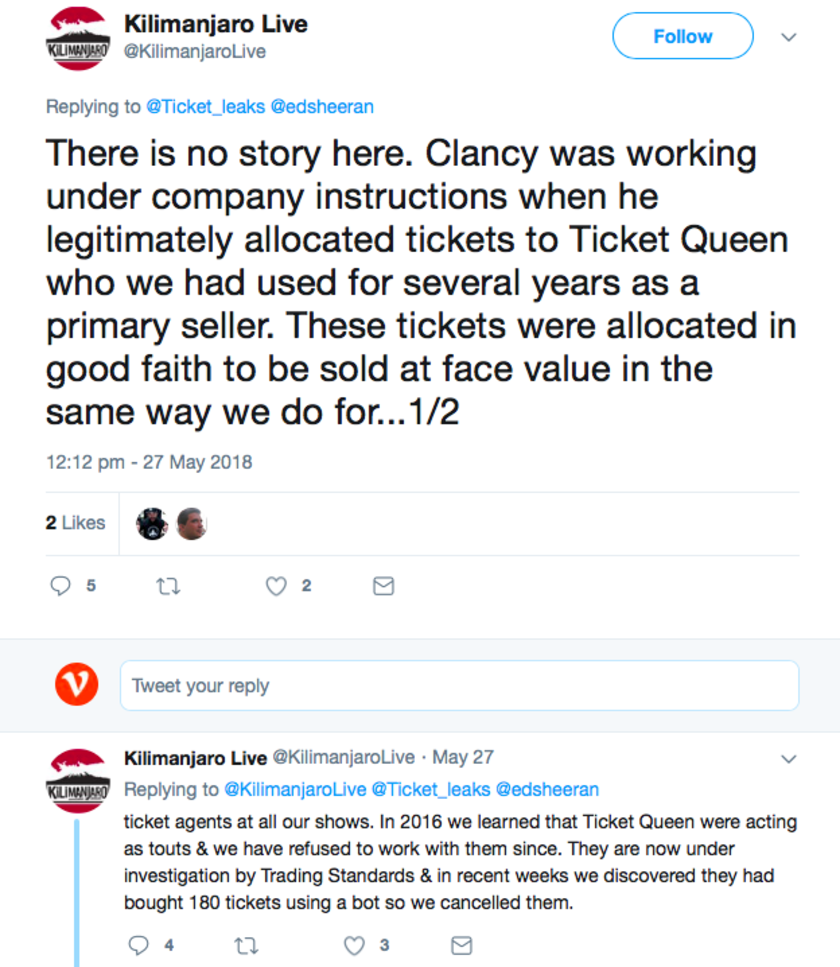 Hmm, something a little bit fishy there? They DID sell to Ticket Queen, but when they discovered Ticket Queen were acting as touts, they stopped. 
Ok, Ok, that's a little suspicious but let's just say we take that as truth, move on, a wrap on the knuckles for Kilimanjaro and don't do it again... Let's just say they really DO want to rid the world of this underhand market, ok, you've got one more chance, don't mess it up, don't betray our trust. That was 2015, those were the dark days, you've grown up, thought a little bit more about this terrible secondary market and want to do something about it. Great! 
Fast forward to 2017, last year, when tickets for Ed's current tour were first announced. The tour that he's using as a platform to rid us of the secondary ticket evil.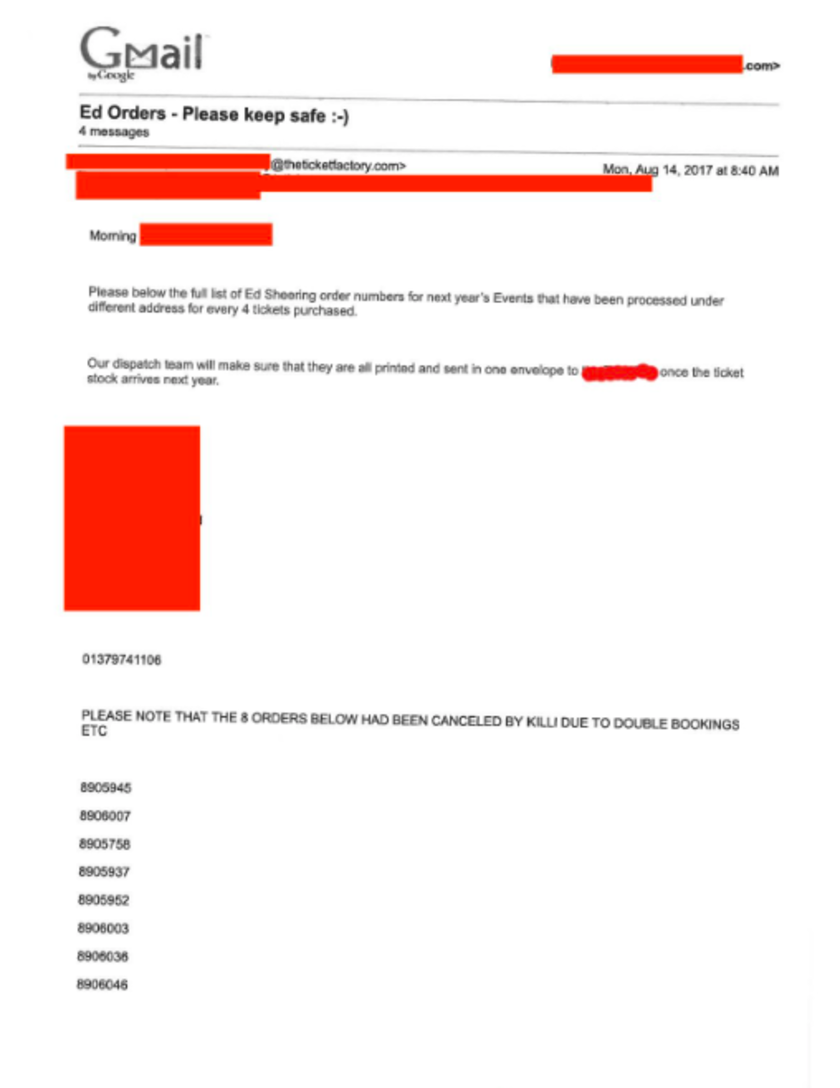 August, 2017, Ticketfactory sends 236 tickets to one secondary reseller. 236 tickets!!! We couldn't buy 236 tickets, you couldn't buy 236 tickets? Why would you want 236 tickets unless it was for business purposes? How could you even get 236 tickets? Ah by manoeuvring around the rules and processing different addresses for every 4 tickets purchased, that's 59 different addresses for the 236 tickets? A genuine transaction, we think not! 
These are tickets for his CURRENT tour, that 2015 'mishap' it's still happening today! 
Ok, so Ticket Factory, fuelling the secondary ticket market by manoeuvring around a system to send 236 Ed Sheeran tickets into the secondary ticket market, but who the hell are they, we hear you ask? Well they're an official resale partner of Twickets, who let's remember are the ONLY guys Ed wants you to go to to purchase those secondary tour tickets. 
So is this some kind of private members club that only a select few can have access to, some closed group that want to control where YOU buy your tickets so they can rinse more from us? 
Welcome in, 'The FanFair Alliance' ladies and gentlemen, a campaign group set-up to fight touts, on their website they state, 'Industrial-scale online ticket touting remains a black mark on the UK's live music scene - ripping off fans and causing significant harm to British artists and music businesses.'
Backed by Ed Sheeran, Mumford & Sons, Radiohead, You Me at Six and many other artists and their management teams. FanFair Alliance has a 'declaration' set-up on their website backed by, you guessed it, Kilimanjaro Live, Twickets and TICKETFACTORY! 
Let's look at just one item on that declaration 
As supporters of the FanFair Alliance we will:
Take measures that ensure 'primary' tickets reach true fans. 
🤣🤣🤣 A 'true fan' buying 236 tickets? 
That's the first point on this 'declaration' another one:
Require that primary ticket sellers monitor sales ledgers for signs of activity by touts, and cancel those transactions accordingly.
🤣🤣🤣 Monitor the activity by touts, they've just sent 59 lots of 4 tickets to one person, the activity starts right in the heart of the FanFair Alliance! 
Real fans are forced to buy from resale platforms because there's no availability on primary platforms. Fans are told events are SOLD OUT and left paying way over the odds and now we know why! Because large allocations have been sold BEFORE tickets ever go on general sale! 
It's not fair, it's not transparent.
This needs to be investigated! We will continue to share this information with you, people need to know the truth. It's going to keep happening unless huge changes are made. We've said it all along, the problem starts at the beginning. 
Fans are not given a fair chance to see the artists they love, why? Because those very artist management teams are not letting them!