Tickets on sale at 10am, tickets unavailable at 10:02, a barrage of disgruntled social media posts and a finger firmly pointing at 'touts' and their playground, the secondary market. This time it's Paul McCartney's Freshen Up Tour that has left fans raging after another ticketing debacle.
We can't condone Viagogo and other secondary sites selling tickets over three times the original price, we can't condone fans missing out on a chance to see their idols once again, and another thing we can't condone is laying the blame at the secondary market, when in fact, the root of the problem is primary, let's show you why.
Now let's take a look at Ticketmaster's 'Platinum tickets'
Ticketmaster's Official Platinum Seats program enables market-based pricing (adjusting prices according to supply and demand) for live event tickets, similar to how airline tickets and hotel rooms are sold.
So basically, the price of a ticket can fluctuate based on market demand, and what's the best way to make sure demand is sky-high? Well, by making sure tickets are scarce, of course! Control the supply and you control the demand, simple. You'd think that once we're greeted with that 'tickets unavailable' message it must mean all of the tickets have been snapped up though, right? Not the case!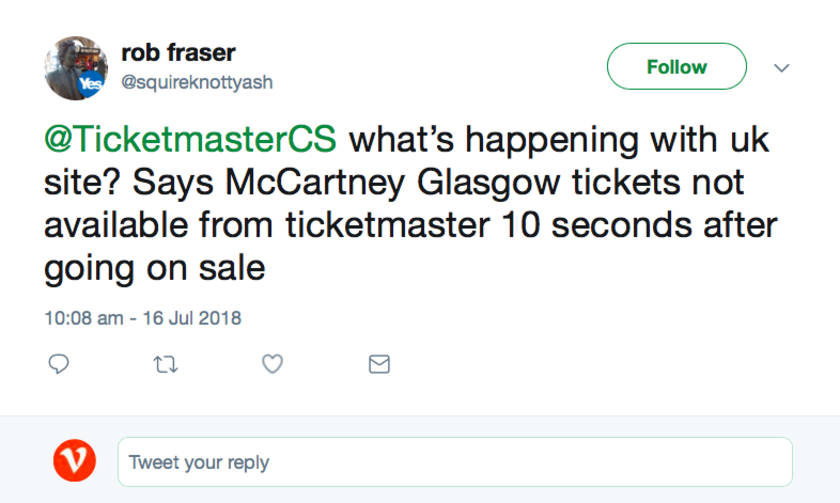 10:06 'Tickets not currently available' so let's think about the language here, 'not currently available' doesn't mean 'sold out' .... not all of the Ticketmaster allocation is reaching general sale at 10am. This was Tuesday afternoon, 17th July, showing results for 2 tickets within the price range of £530-£650 for The SSE Hydro, Glasgow 14th December, the only tickets available are 2 tickets, Section 004, Row D, £530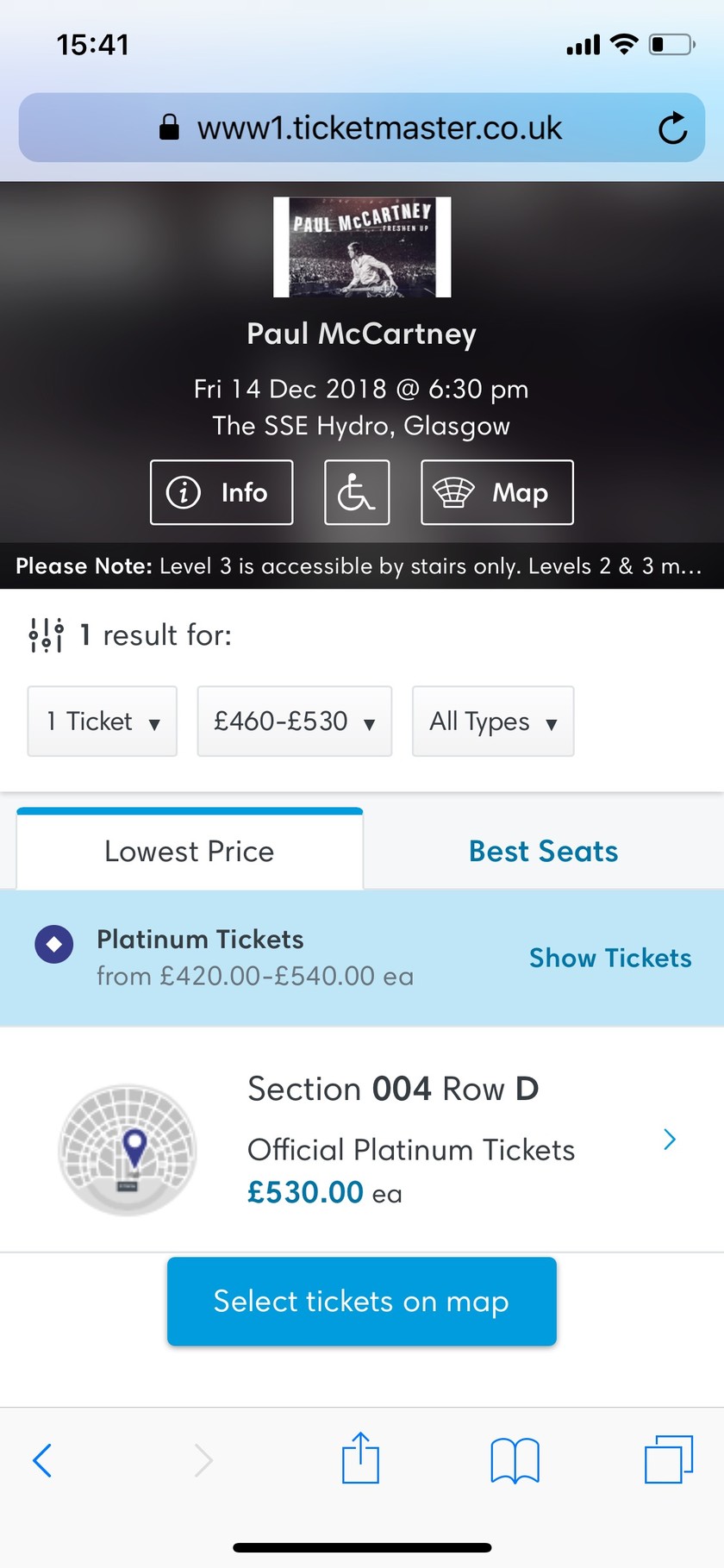 24 hours later, Wednesday 18th July, price range £530-£650, NEW TICKETS! Ticketmaster say on their own website that Platinum tickets are not resale tickets, that these are tickets sold for the very first time on Ticketmaster, so where were these £530 tickets when we looked the day before? New tickets have been released.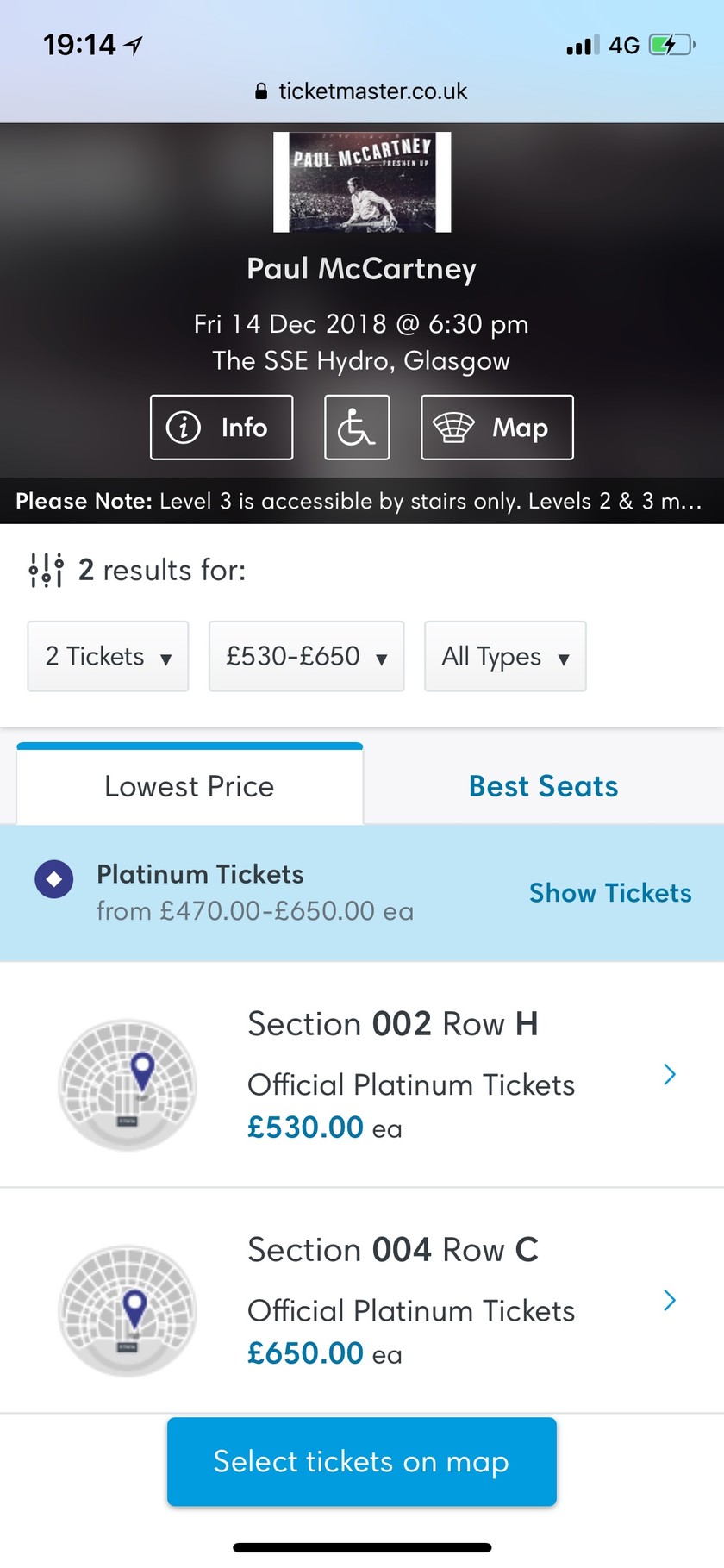 What's happening here is that tickets are being drip fed into the market, tickets aren't all being released at 10am! Ticketmaster are controlling the demand by controlling the supply and creating scarcity, a scarcity that then means they can drive up the price of the ticket.
On Tuesday, the cost of a ticket in Section 004 Row D was £530 yet on Wednesday, the cost of a ticket in Section 004 Row C is £650! 24 hours, same section, 1 row difference, and a £120 increase in price, an increase in price because of high demand, a demand that they control by drip feeding their tickets into the market.
We've said for a long time that the problem starts at the top, and here's just another example, when will things change? When will government and policymakers start to turn their attention to the primary market, if we fix the problem at its root, we start to solve the issue, and we start to make the ticketing landscape fair for fans! It has to start now!